Naos


In a western world...

...where spirituality dwindles as climate change, catastrophe, violence, and a reductionist mentality triumph, where does the modern man and woman look to feed their souls? Naos explores the intersection between space and spirituality, from the politics to the inspiration. It ties in environmental preservation, mindfulness, and sustainability as core attributes humanity must embrace while embarking across the Final Frontier. The realm of space must be respected and seen as a source of inspiration and innovation, not as a scapegoat to continue pursuing our excessive lifestyles.

The collection's silhouettes reference space suit construction with surreal twists and uses upcycled plastic bags as design details. Naos is for men and women who are introspective, have a curiosity for the unanswerable questions in life, and a calm confidence about their place in the world. They aren't afraid of mixing haute couture pieces in their everyday lives and wearing their environmental support on their sleeves.
Hypebeast Commencement Finalist ︎︎︎

HYPEBEAST in partnership with Instagram put out a call to 2020 graduates from BA or MA fashion programs to submit their final thesis or senior collection through an Instagram Reel for a chance to have their designs sold via HBX. I'm proud to say that I was one of four finalists selected to have their capstone collection highlighted on HYPEBEAST's website and Instagram account.
Click here to read the full article.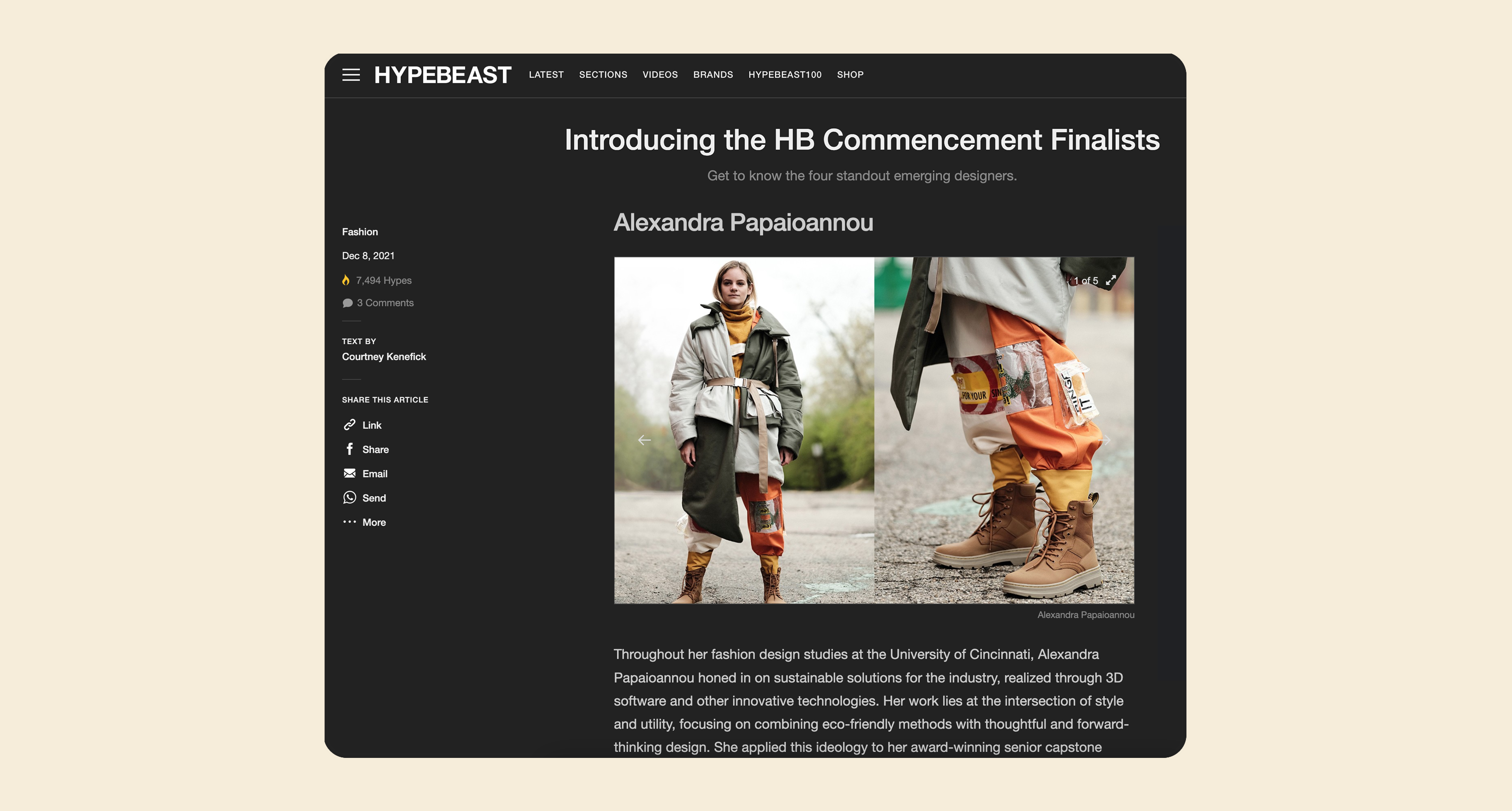 Naos Collection ︎︎︎

Look 01 ︎︎︎

A girl of two minds. The back and forth play of color represents the constant struggle between light and darkness when contemplating the fabric of the cosmos and divinity. The sleeve structure and excess of pockets is in reference two the design details and structure of an EVA Space Suit.



Look 02 ︎︎︎

A heated display of defiance. This burnt orange jumpsuit pays homage to the shuttle ascent and entry suit donned by astronauts. The vivid color makes it easier for them to be visible during a search and rescue, especially in the sea. The suit gets elevated with bulbous sleeves, gloves, and utilitarian pockets made from collaged plastic bags.


---

Look 03 ︎︎︎

When the dust settles. A shapely coat with floating sleeves and structured hips creates a form that defies gravity. Plush velvet evokes the rich textiles present in many religious garb as well as their grandiose structure.



Look 04 ︎︎︎

Rising at dawn. Utilitarian pockets, protective gloves, and strong shoulders are signs of strength and endurance during times of uncertainty. Gloves and front and back knit detail are made from collaged and knit plastic bags.



Look 05 ︎︎︎

Spiritual explorer. This creamy puffer coat gives a nod to the structure and design of EVA suits, from the shapely sleeves to the buttoned front flap to the multitude of pockets. Paired with a sea foam slip dress and commanding graphics, this look is the perfect balance of peaceful protest.


Academia del Lusso Roma ︎︎︎


The Naos collection was selected to be presented on a runway alongside the graduating class at Academia del lusso Roma.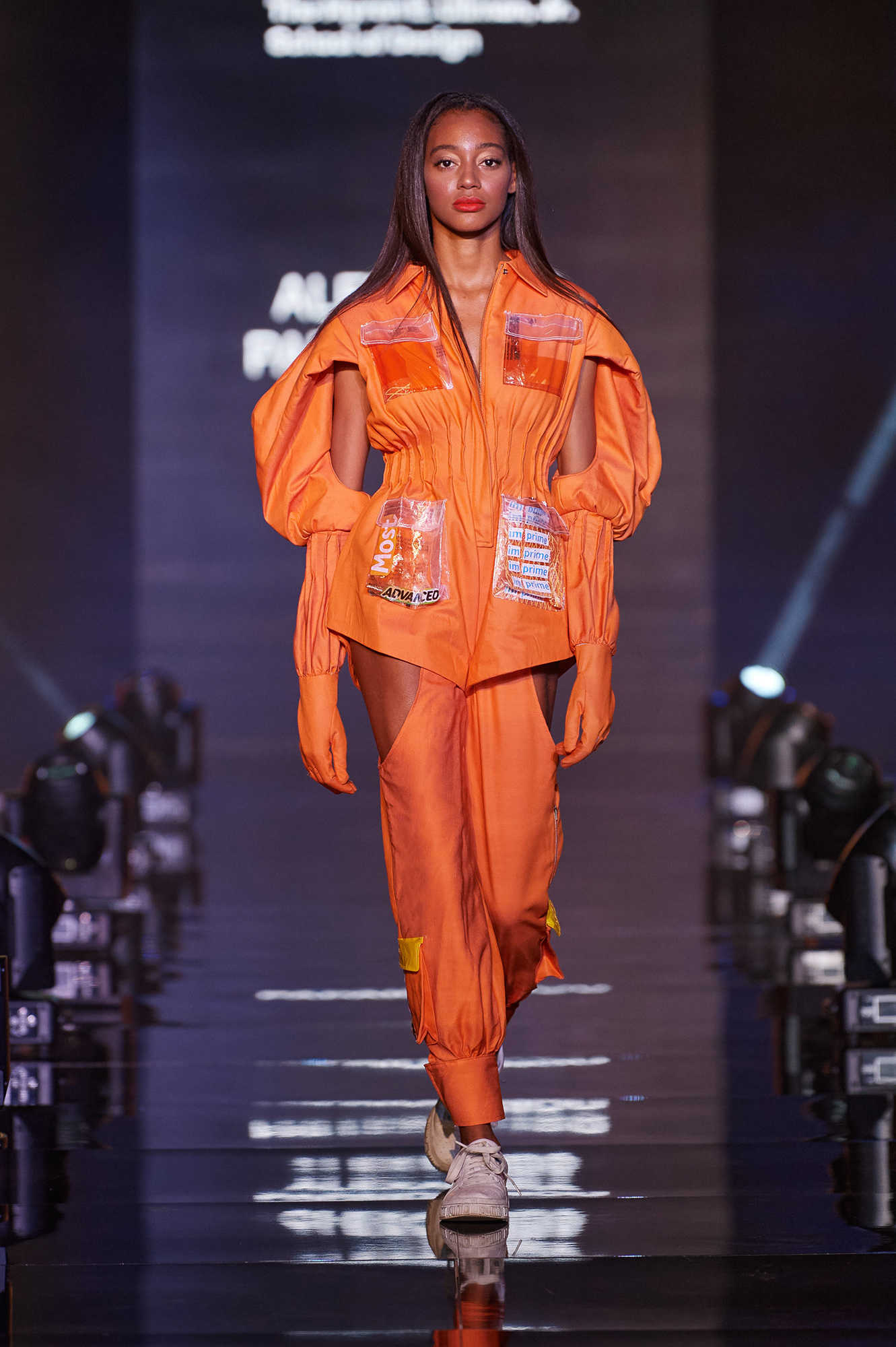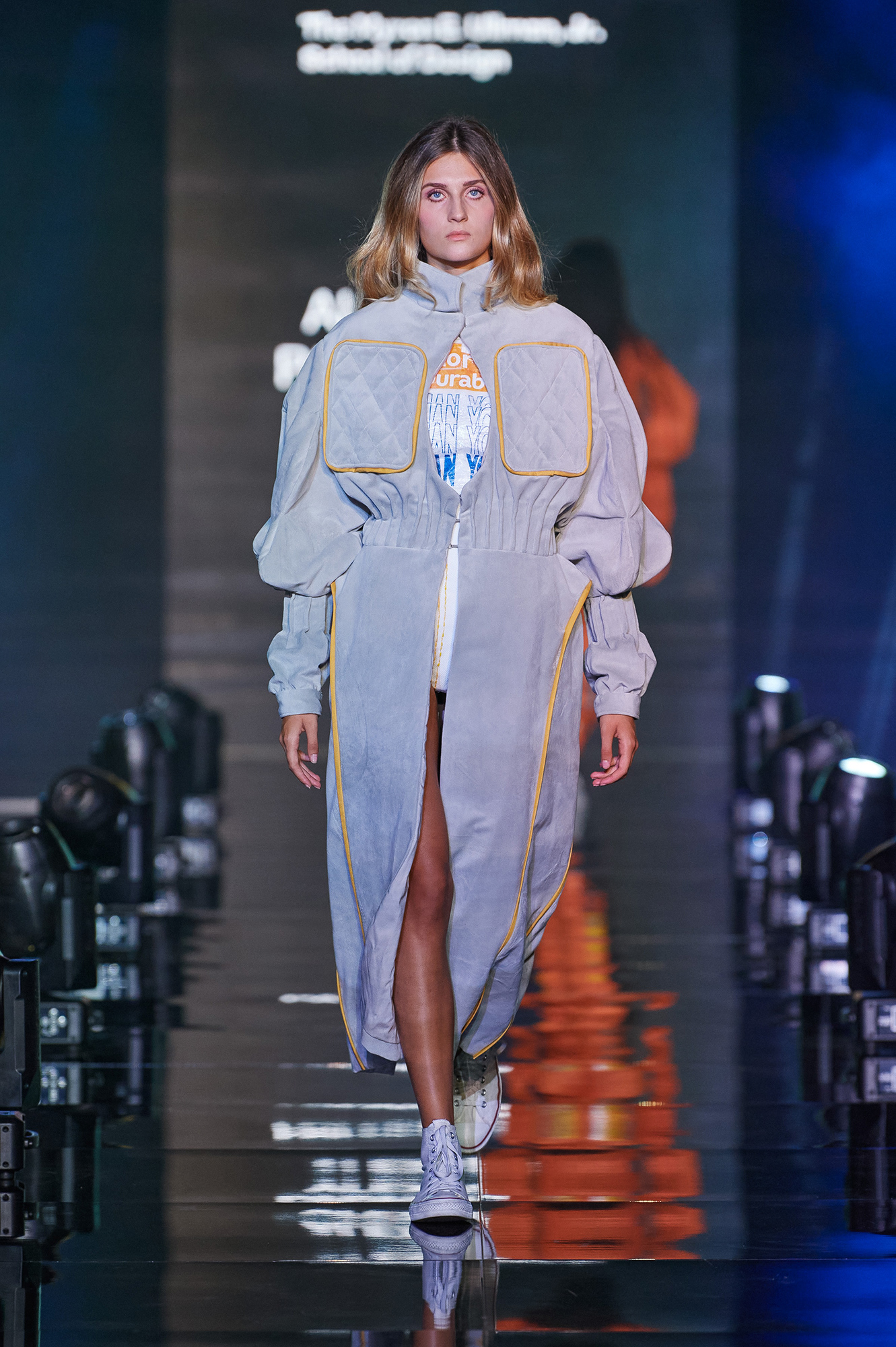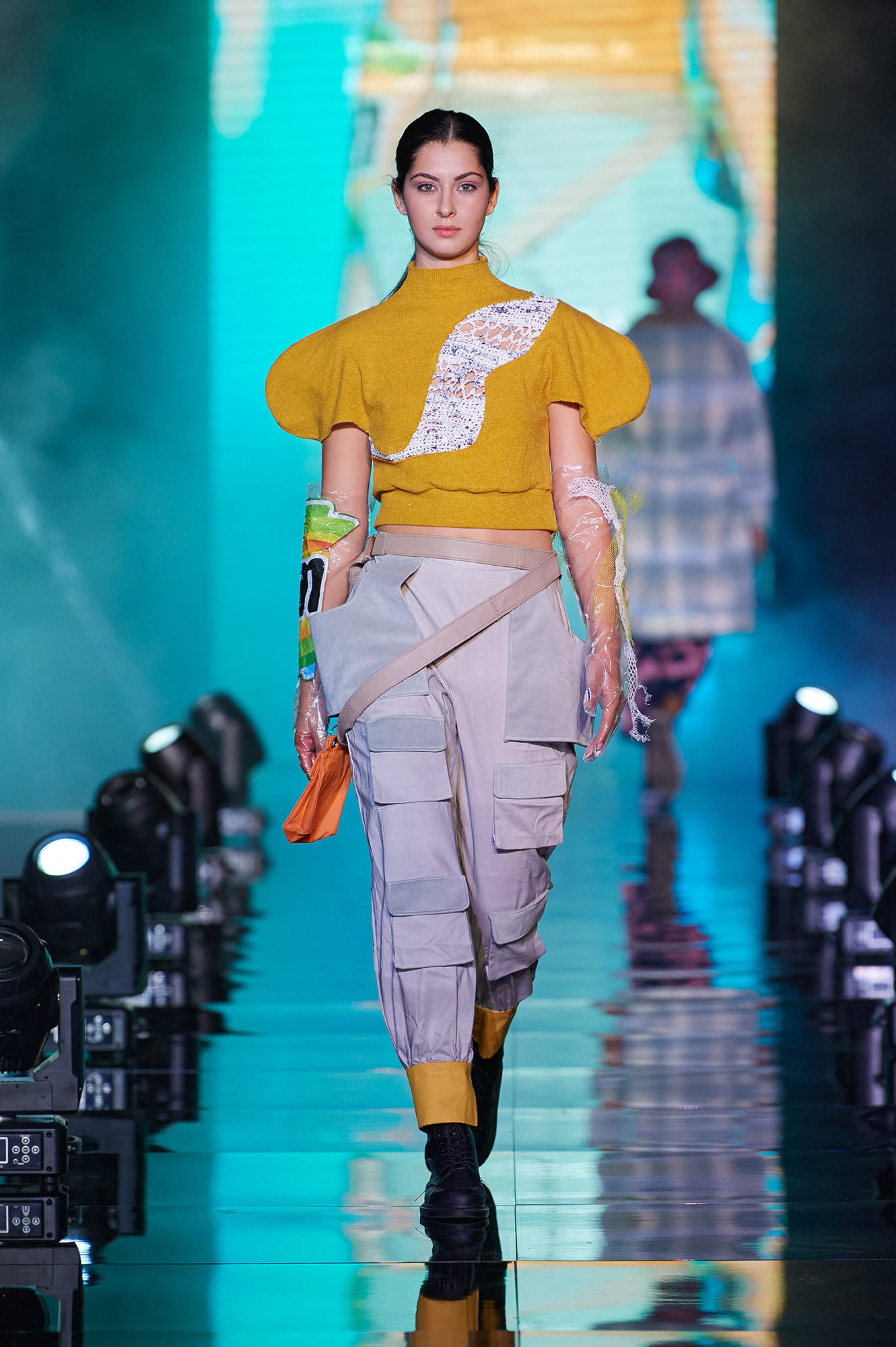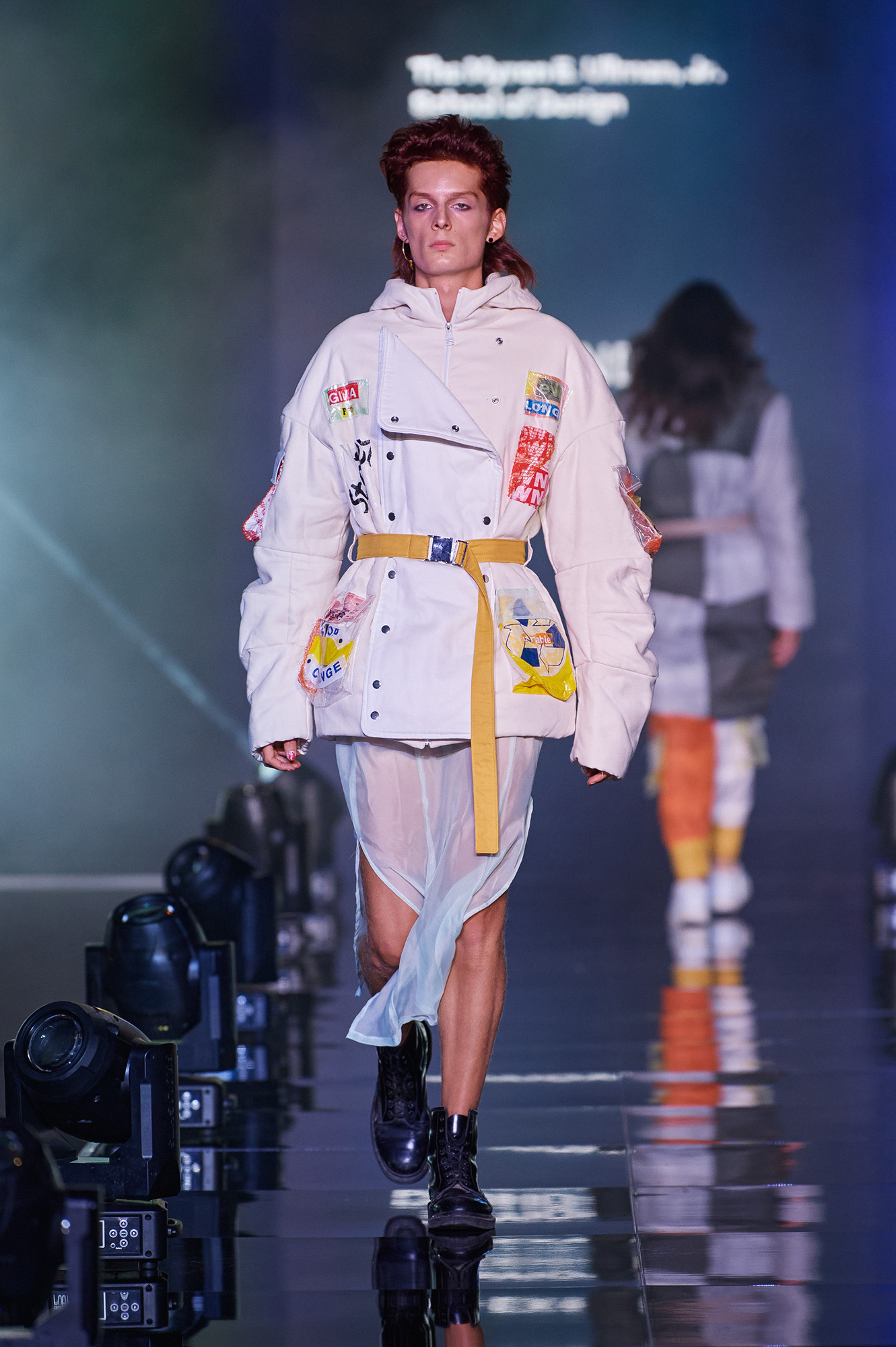 Process Work ︎︎︎


I knew from the start I wanted warm colors to evoke the sense that space should feel familiar, comfortable, and welcome to exploration, especially considering our future habitats might be sprinkled throughout it someday. I veered away from the chrome and silver looks people tend to associate with space exploration. This collection was meant to feel both familiar and somewhat alien, a place of security yet awe-inspiring.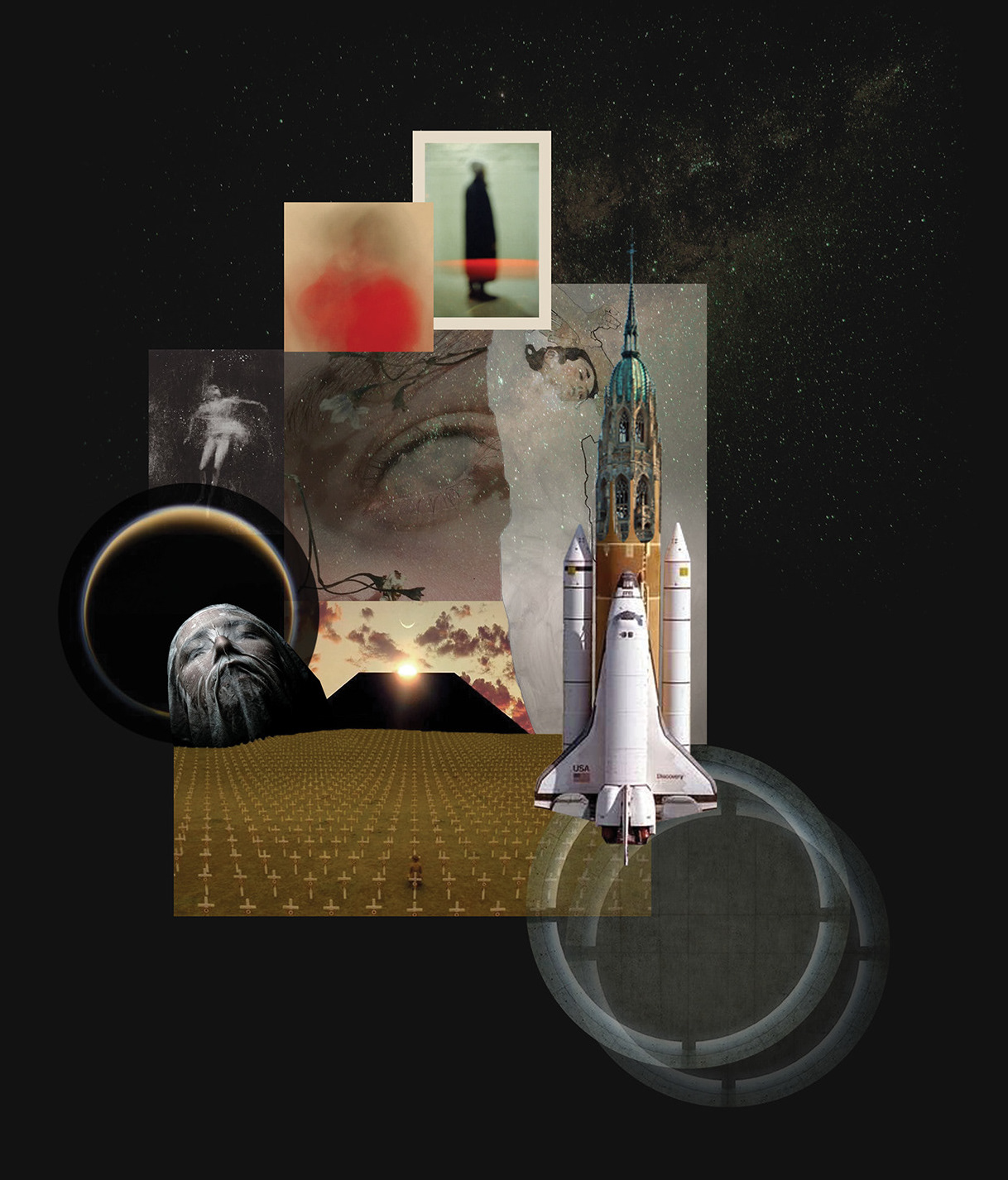 From left to right ︎︎︎

Alexei Leonov's Sokol Spacesuit Used in the 1975 Apollo-Soyuz Test Project. Valentina Tereshkova, set a record by becoming the first woman in space. Diving suit.



To encourage draping silhouettes that were not constrained to the laws of physics, I worked on Mudbox to sculpt abstract forms over a digital avatar. This allowed for a wide range of silhouettes with an almost infinite amount of volume. It was crucial to me that my desings had a feeling of weightlessness which I evoked by focusing volume on the top half of the body.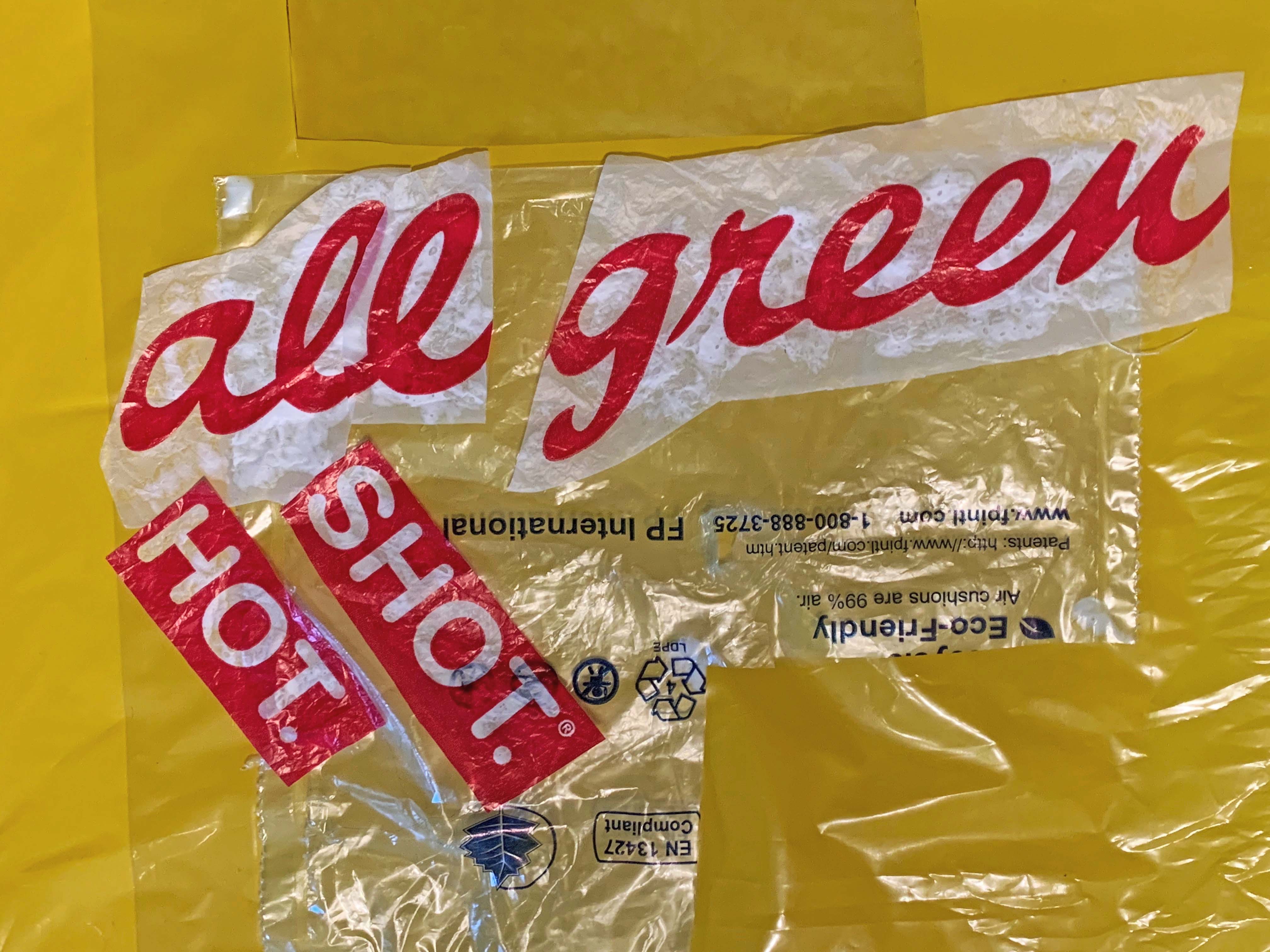 I explored a variety of combinations using text on plastic bags I collected. Phrases like "more durable than you" and "evil longer" speak to the aggressive competitiveness and unsustainable consumption that capitalism breeds.



From left to right ︎︎︎

96% polyester, 4% spandex | 86% Polyester, 10% Rayon, 4% | 65% Cotton, 35% Polyester | 65% Cotton, 35% Polyester | 100% Cotton | 100% Cotton | 100% Cotton | 100% Polyester | 100% Rayon | 100% Cotton | 100% Polyester




From left to right ︎︎︎

7406 C | 2309 C | 3514 C | 3564 C | 4275 C | 7538 C | 7537 C | 621 C


"Transhumanism was an expression of the profound human longing to transcend the confusion and desire and impotence and sickness of the body, cowering in the darkening shadow of its own decay. This longing had historically been the domain of religion, and was now the increasingly fertile terrain of technology."

Mark O'Connell